Zinc Oxide Business, Process & Facility
Business
We @ Nahar have nearly two decades of experience in manufacturing ZINC OXIDE - WHITE SEAL GRADE. We are one of the fastest growing Manufacturer of Zinc Oxide in India with a production capacity of 11000 Metric Tonnes Per Annum at our Kalol, Gujarat Unit with state of the art manufacturing facility.
We @ Nahar use the most advanced manufacturing technology for the production of ZINC OXIDE. These technologies have been developed from years of experience in ZINC OXIDE production and from improvements in response to the requirements of our customers.
We mainly produce ZINC OXIDE - WHITE SEAL GRADE for Ceramic and Rubber industry through French Process.
We have developed our core competence in the field of Selling & Buying ZINC OXIDE AND ZINC DROSS respectively.
Our R & D Department is constantly working hard and is coming up with new innovative ideas. The Quality Control department is continuously checking all the aspects of quality at different levels of manufacturing. We constantly upgrade our technology to face global challenges. We claim to have world class infrastructure because of our manpower and best technology used to manufacture zinc oxide.
Manufacturing Process
We @ Nahar have been involved in the production of ZINC OXIDE - WHITE SEAL GRADE manufactured by the process called 'French process' or 'Indirect process'. In this process, the starting point is metallic zinc, which may be virgin, secondary (recovered), galvanisers' waste or dross. The metal is volatized from retorts and the vapours are oxidized to finely divided Zinc Oxide.
Manufacturing Facilities
Our French Process unit in the State of Gujarat deliver quality ZINC OXIDE - WHITE SEAL GRADE. We have our manufacturing facility situated 30 Kms away from Ahmedabad @ Kalol (Ahmedabad – Mehsana Highway), District - Gandhinagar, Gujarat.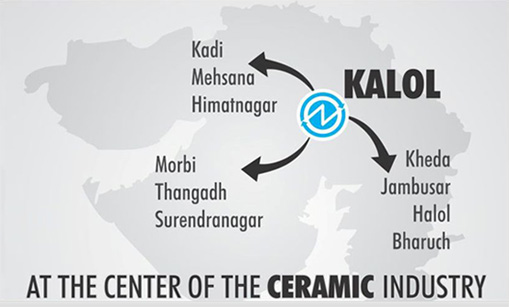 Our Approved Zinc recycling facility has an efficient state of the art manufacturing setup that lends the unique competence of maximizing Zinc recovery from secondary material. Our workforce comprises of experts, professionals and dedicated workers.
With strong focus on in-house research and development, we believe in making chemicals that are safe, environment friendly, facilitate reliability and assure complete traceability.
The City of Ahmedabad only 30 KMS from Kalol is very well connected to the whole of the India via Rail, Air & Road.
Kalol being strategically located as the ceramic industry of Morbi, Bharuch, Himmatnagar, Mehsana & Baroda are all within the radius of 250 Kilometres from Kalol.